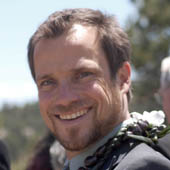 If you had asked me a decade ago what my life would look like ten years from then, I could hardly imagine that I would be here. I had long wanted a life of service, where I could bring my creativity, intelligence, spiritual path and open heart into my work, and at the time, I was struggling to make it as a landscape photographer while working part time in a wilderness gear store. Following a series of events that inspired a deep and soulful inventory of my personal values and how those matched my current situation, I made some significant changes and embarked on the path I am currently on as a professional counselor.
I came to Boulder in 2002 enrolled in the Contemplative Psychotherapy program at Naropa Univerity, from which I graduated in 2005. Those three years of training provided a strong foundation in a variety of counseling traditions, direct experience of working with intensity while remaining open and clear and connected, and strengthened my contemplative roots in Buddhist and secular mindfulness practices. My appreciation for Naropa's training is evident in that I continue to instruct students in the department to this day, and served as a member of Naropa's Board of Trustees from 2005 to 2011.
I began working in the field of mental health in 2003 as a mentor in a residential program for young adults. In 2004 I joined a new start up therapeutic program founded by Bill Sell, Living Well Transitions, as a Life Skills Counselor, and have continued to work there since that time in a variety of roles. I currently serve as Clinical Director at Living Well Transitions, providing clinical oversight, supervision to program staff, program development and strategic insights to further propel this small program to become a leader in the field of private young adult treatment programs. I also serve as President of the Board of the Rocky Mountain Chapter of the Association for Contextual Behavioral Science (www.acbscolorado.org)
What I find deeply nourishing about my work is that it brings together my spiritual and professional paths in service of personal core values such as compassion, interpersonal connection, empowerment, and helping people (including myself) find increased liberation from suffering. When I am not working with clients or studying counseling and cognitive theories, I will likely be either playing & laughing with my son, on my bike, making and eating great food with my wife, or hiking with our two dogs on a mountain trail.
For more about my professional background, take a look at my Linkedin profile.

Stay Connected.
Sign up for info on all upcoming Life Launch workshops and webinars.